Within our community, everybody deserves a podium spot! Every athlete has the opportunity to celebrate their victory during a competition.
We organize sports competitions with the main focus of athlete development and bringing people together by challenging them also in their communication & teamwork.
The most important part is that everyone has fun in what they are doing – athletes, crewmembers, and spectators alike.
This Online Buddy Team competition, Support your box, has been set up to support the box or gym: 5 euros per ticket will be to the (registered) box/gym of the athlete's choice.
A facility with trainers who ensure that people can work on their fitness in a responsible way;
An environment where everyone can come together, an environment without levels and labels;
A training location where hard work is stimulated and you help each other when necessary;
A place where people like to come and have not been able to use it for some time now;
This setup, joining forces, supporting each other in tough times, and celebrating victories in good times, is exactly what we believe in: By the community, for the community!

We hereby present the ranking of the registered boxes/gyms: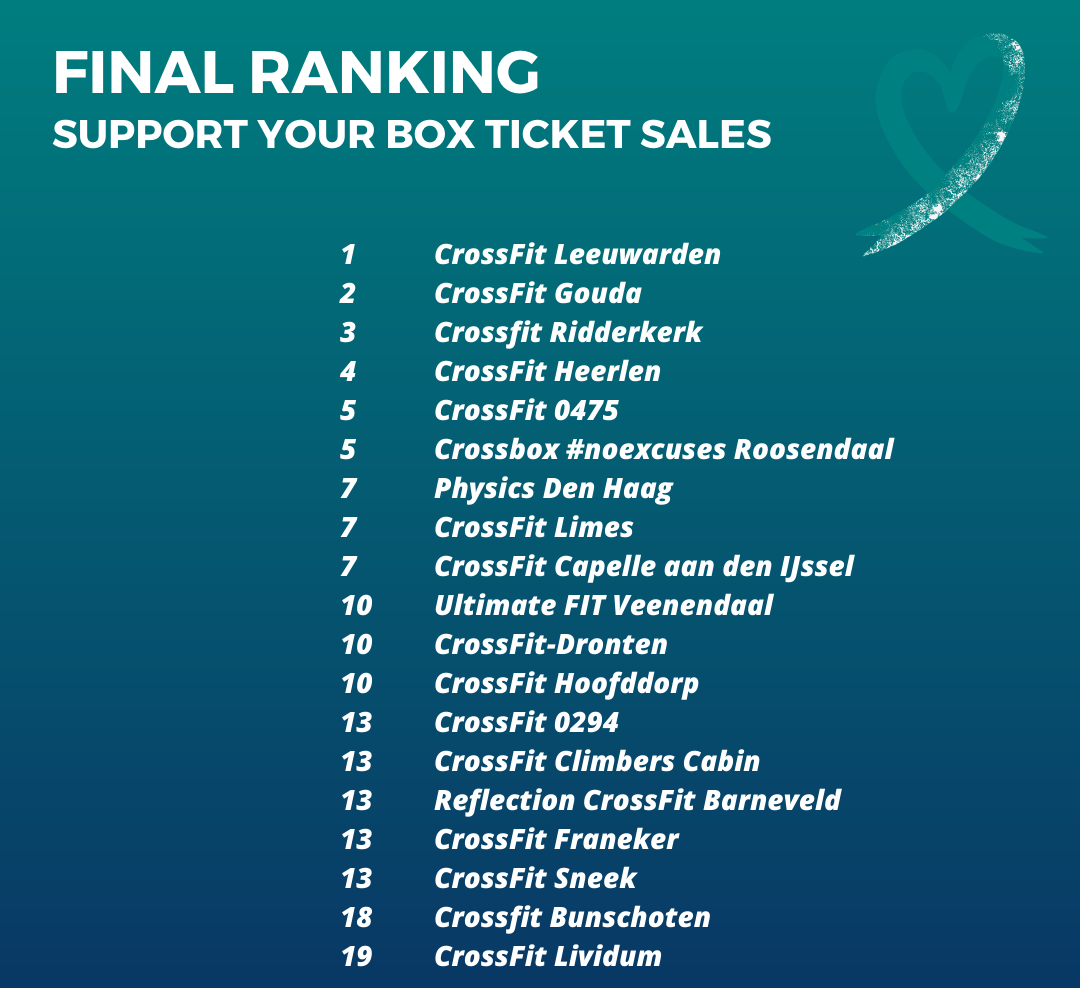 The 3 boxes/gyms that will represent the most participants during Support your box wins one of these great prizes!
The 1st place winner is CrossFit Leeuwarden!

Your affiliate wins an epic party, by DJ Cinsanity!
Yes, that's right: The first community party is waiting for you! Everyone misses the fun parties, being together while enjoying good music! We take care of the beats & grooves, you take care of your best moves! Are you ready for a party?
The 2nd place winner is CrossFit Gouda!

Your affiliate wins a 2-hour clinic by Karin Weijgers 
She's a well-known Dutch CrossFit athlete and CrossFit coach. She not only loves to… walk upside down and flies through pull-ups… This little beast is even more excited to teach you these gymnastic skills!!!
The 3rd place winner is CrossFit Ridderkerk!
Your affiliate wins a 3-hour clinic is hosted by the Njoya League 
During this clinic, the most common mistakes are discussed and corrected. There's time to ask all your competition questions so that you are even better prepared for the next event. Of course, we wrap it up with a team workout!
When it is allowed to organize joint activities, we will contact the winners and schedule a date. We are looking forward to it!
We would like to thank the athletes for the support of their favorite box/gym and the extra donations that have been made. And of course, our thanks also go to the locations that, despite these tough times, still made the effort to participate as an affiliate partner.