The organization has been busy in recent weeks giving the event a major upgrade. With a big smile, we can announce the big news that we have started a collaboration with Fitfair Jaarbeurs 25-26 November! 
Every athlete deserves a big podium and we can give you that with this collaboration.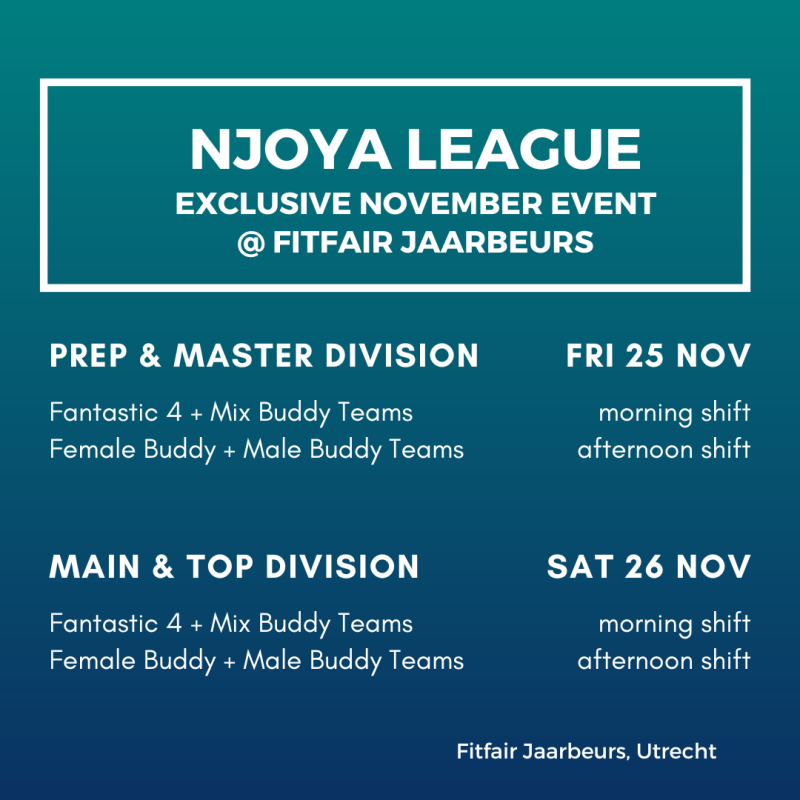 All registered athletes will be moved automatically based on the current division and category. They don't need to take any further actions to compete on 25 or 26 November.
It's possible to request a change in the division and/or category, all athletes received an email, about how to request a change.
In order to implement any adjustments, we have temporarily closed the current ticket sales. 
The sale of the last tickets will go online on Wednesday 10 August.
As an athlete and spectator, you have access to Fitfair Jaarbeurs on both days. Including the 75+ Fitness related booths and 100+ Masterclasses.
Ticket value: 30 euros early bird, 45 euros regular passe-partout.
Spectator tickets
Spectators who have already purchased a ticket do not have to pay an additional fee, but receive an upgrade and will have access for both days.
If you want to surprise your fans with a visitor/spectator ticket, you can use the 50% athletes deal: 2x 1-day ticket: from 35 euros for 17.50 euros. 
Please note, that this promotion is exclusively for athletes and is valid until August 31. After this, spectators will be referred to the Fitfair Jaarbeurs website.
Fitfair Jaarbeurs
On Friday 25 and Saturday 26 November 2022, the 5th edition of the two-day business, network, and fitness lifestyle event will take place in the Jaarbeurs in Utrecht.
Fitfair Jaarbeurs is the event where the fitness fanatic, the fitness professional, and the club/box owner meet to shape the future of our industry. 
By combining a high-level knowledge event with an innovative exhibition floor of 4000m2, the event has set a new standard in the fitness sector. Divided over 16 areas, Fitfair presents more than 100 program elements for the +/- 5000 visitors.
Visit their website for more info & tickets: https://fitfairjaarbeurs.nl/

Grateful
We are grateful for the cooperation, flexibility, and understanding of our partners, as well as Fitfair Jaarbeurs, suppliers, event location, and superteam that allowed this adjustment to take place.
On behalf of the team, we look forward to organizing an exclusive event for you as an athlete/team in an awesome venue, surrounded by fitness-related booths, equipped with a catering area, and with unlimited access to inspiring masterclasses.
Have fun during your training sessions and enjoy this summertime!