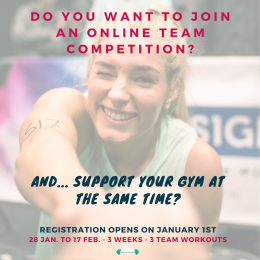 Test your Fitness & support your favorite box!
Create a Buddy Team (Female, Mix, or Male Buddy Team).
Individual registration is possible until February 3rd at 23.59 hours!
Registration fee: €10,57 per athlete (individual registration process).
€5,00 will be transferred to the box/gym you selected.
Your ticket includes a 2-month Ondernemen op Sneakers Membership (Jan/Feb).
You don't have to mention your team name, division, and category during your registration, we'll check your registration with your score submission.