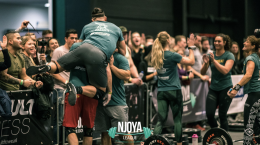 Teams who already have a ticket for our live event next year, check this out ⤵️
This online team competition is intended as a nice preparation for the real competition in May 2021. It's the perfect way to figure out which aspects need some attention to your next competition. When you already have a ticket for next year's event, you're automatically registered for this Online competition.
Your original ticket, division, and category will be maintained for May 2021 (live event), but for this online competition, we want to be a bit more flexible and challenge you to test your current fitness level.
Because most athletes registered last year (2019), we understand a lot has been changed. As you know, it is allowed to replace an athlete in case someone is absent from your team. And some athletes might even be more fit than they thought they would be during the original event in May 2020.
Do you want to change your division for the Online competition?
Notification to the organization is not necessary, we'll use the division on your submission form of your 1st score (workout 1).